My Exclusive NEW HYPNOPROGRAMMING VIDEO~ just added & ONLY AVAILABLE in My BRAINWASH STATION & DIAMOND CATHEDRAL!!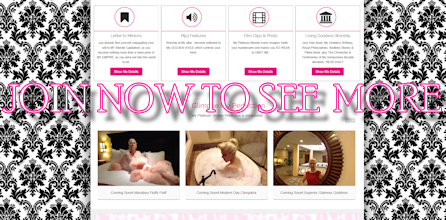 Description: Utilizing covert mind control theories from mass media programming and government mind control experiments, this new mind control program is insidiously disarming & wickedly charming! your helpless bbrainn will be subject to MY WHIMS.. irresistably drawn to OBEY My encoded commands..
Just added tonight! My NEW Mind Control Art VIDEO, your next mind control program is ONLY available in My BRAINWASH STATION & DIAMOND CATHEDRAL~
This is My most POWERFUL MIND CONTROL ART VIDEO yet and EXCLUSIVELY available inside My BRAINWASH STATION. YOUR NEW MIND CONTROL PROGRAM is waiting inside.
As most are well aware, all of the VIDEOS within My MIND CONTROL ART SERIES are 200.00 each. your entire membership is 125.00 it's a *NO-BRAINER* to join NOW.
Install My NEW HYPNOPROGRAMMING VIDEO experiment.. become MY psychological experiment, My test subject GUINEA PIG!